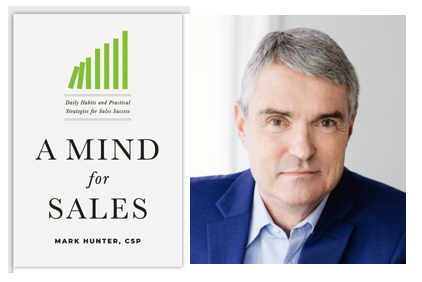 133 GUEST: How to Have a Mind for Sales, with Mark Hunter
What is much more important than techniques and processes as it relates to our sales success, is our mind and our thoughts.
Mark Hunter, "The Sales Hunter," has written a new book addressing this, "A Mind for Sales."
In this episode he shares a number of tips and strategies for staying positive, not feeling rejected, overcoming a fear of "no," and more to keep your attitude, and resulting performance, at peak levels.
Hear Mark's Quote of the Day at [25:28]
About Mark Hunter
Mark Hunter, also knows as "The Sales Hunter," is recognized as one of the top 50 most influential sales and marketing leaders in the world. He is author of "High-Profit Prospecting" and "High-Profit Selling." And his new book is "A Mind for Sales."
Mark is also one of the co-founders of OutBound, last year's event drew people from 17 different countries in and in just 4 years it has become the largest sales conference focused 100% on outbound selling.
The focus of his work is helping to influence and impact others to help them see and achieve what they didn't think was possible.  He's been quoted in Forbes, Inc, Entrepreneur and Bloomberg's Business Week. Clients he's had the privilege to work with range from numerous "Fortune 100" companies to small start-ups.
Reach Mark at TheSalesHunter.com
_______________________________________
Listen by Clicking Here (28:16)
Get Notified of New Episodes, and Other Free Sales and Prospecting Weekly Tips